Flexible Links
My Blogging Inspiration
Campaign for Unshaved Snatch (CUSS) & Other Rants
Flexible Affiliations
Friday, May 02, 2008
Two's A Charm
Dear Mrs. Chicky, Her Bad Mother and Mrs. Chicken,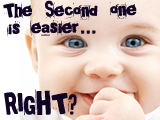 I would love to be able to give you some advice on having a second child. The problem is that most of the time, I still need some advice. I'm just kidding sort of. Honestly having a second was a lot easier than I thought it would be. Here's the two best pieces of advice I have for you.

1) This is really the best advice I've received for parenting. A friend of mine who is remarkably organized despite having and has four happy kids told me to make the new baby fit into the older child's schedule. Sounds a little harsh, but I am so glad I did it. I think back to what it was like when my older son (OS) was a newborn and I was housebound because of perceived nap restrictions, minor germ phobias, cold weather, hot weather, you name it. However, when OS was 34 months old, and it was the official first day of summer aka my younger son's (YS) birth, I knew that being housebound was just not going to be okay with him. Talk about a way to make him resent his sibling. I just made sure that there was a Pack N Play at whatever playdates or playgroups we attended so YS could nap. If necessary, I brought one with me. I also invested in a few more receiving blankets and hung them from the handle of the baby bucket carseat when YS was in the stroller and we were outdoors to provide a sun screen. I know people who've even bought the velcro sticky tape to velcro them to the handle. YS never ever had a sunburn.

Here's the best part of this wonderful advice; YS is incredibly easy going and while part of me knows it is just plain old luck (for which I will be eternally grateful) there's a part of me that believes it's because he has led a "go with the flow" life from birth. Of course, an afternoon nap was part of OS's schedule, so they both napped at the same time.

2) Make sure you don't have any Sharpies in your house. No, seriously. A few weeks after bringing his brother home, OS found a Sharpie and colored all over his walls, furniture, the bathroom, and clothes, when we thought he was sleeping. We didn't even know we owned a red Sharpie. If you have any doubts, send your older kid and friends on a treasure hunt for Sharpies in your house. You may be amazed at what they find.

Best of luck! Everyone told me that the best part of having multiple kids was seeing the beautiful friendship that forms. I have loved witnessing this because it allows me time during the day to blog and/or talk on the phone .

A. Elliot's Lesson Learned:

Keep your newborn on your older child's schedule, but make sure that older child does not have any Sharpies.



This post was written for a virtual Baby Shower.
posted by Alex Elliot @ 3:36 PM
My Profile
Name:
Alex Elliot
Home:
MA, United States
About Me:
Professional Mom of two cats, a dog, an ant farm, and oh yeah...two boys: a 6 year old and a 3 year old. Also found in my house is my husband who is known on this blog as The Big Giraffe.
See my complete profile
Flexible Media Appearances
The Morning Show with Mike and Juliet, Fox TV, August 3, 2007
Flexible Feeds
More Flexible Parenting




Flexible Categories
Previous Posts
Archives